We have read , seen and heard of the terrible consequences of the earthquake today , I believe that it is only fitting that we should be concerned about our cousins in New Zealand . I asked about how we could help and I was provided with this article.
I must point out that this article is from the NZ Herald via Oswald Bastible .
Christchurch earthquake: How to donate
9:25 PM Tuesday Feb 22, 2011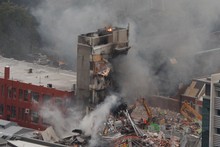 Several appeals have been launched to help Cantabrians following today's devastating earthquake.
ANZ launched an appeal and announced it would make the first donation, $1 million, and Westpac has donated $1 million to a Salvation Army appeal. BNZ has also pledged $1m.
The Salvation Army re-launched its Canterbury Earthquake Appeal, with national fund raising co-ordinator Major Robbie Ross saying a tremendous effort was required to help those already living with the hardships and psychological effects of the original quake and its aftershocks.
"Our experience with the September quake showed us the great emotional shock such an event can have on people - and now there is the added dimension of some people grieving for loved ones," he said.
"There will be myriad material needs by those who have lost possessions and homes. We are appealing for cash donations to strengthen our response."
The Salvation Army also asked its members to pray for the people of Canterbury.
Anyone wanting to donate to the The Salvation Army appeal could call 0800 53 00 00 or do it online at www.salvationarmy.org.nz or to Westpac account 03 0207 0617331 00.
"Our thoughts are with the people affected by today's earthquake, our staff in the regions and their families who have been affected by today's earthquake," ANZ New Zealand chief executive David Hisco said.
"It is terrible that they have had to go through another natural disaster and of such devastating scale just as Christchurch was attempting to rebuild and move on from the September earthquake.
"Today's reports of loss of life and injury from this disaster are simply overwhelming. Our sympathies are with all of those who have been affected."
Westpac New Zealand chief executive George Frazis said the thoughts and support of the bank and its staff nationwide were with them.
"We particularly give our condolences to those families who have lost loved ones."
BNZ chief executive Andrew Thorburn said his bank would be doing everything it could to support those who were suffering.
The Auckland University Students' Association was first off the mark, launching an immediate street appeal to raise money for the people of Christchurch affected by the quake.
"No words can express the horror of the scenes we have seen coming in from Christchurch," association president Joe McCrory said.
"Thoughts of every University of Auckland student are with the people of Christchurch, their families and friends," he said.
Anyone wanting to make a donation should contact the association on (09) 309 0789, or make a donation in person around the Student Union Building on the University of Auckland campus.
Meanwhile, Pike River Disaster Relief Trust chairman and Greymouth mayor Tony Kokshoorn announced the trust would no longer accept donations for the November mining disaster, which claimed 19 lives, and instead urged people to donate to the Christchurch earthquake appeals.
- NZPA